Illinois Amish Furniture
- Dining Chairs
We have well over 100 chair styles available to us from our Amish craftsmen. And they are all available in red, white, or quarter-sawn oak, clear or rustic cherry, soft or hard maples, and hickory. There are a few other woods available but that covers the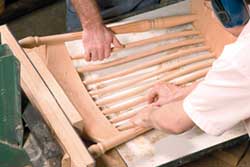 majority.
Now take that across the virtually unlimited stain selections and you'll find that we are almost always able to meet our customers desires for a unique, custom dining set at an affordable price.
Country, casual, formal, shaker, or mission we have a lot to choose from. Additionally we have a large selection of fabrics and leathers that can be added to meet you style needs.
Our Amish Craftsmen create chairs that will last. Solid wood all the way. All joints have thick doweled and glued construction, with a screw added for permanant stability.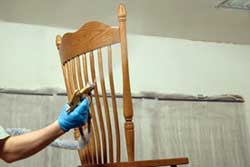 Hand rubbed stains, hand sanded sealers, and wear resistant catalyzed top coats will retain their beauty for generations.
Not to brag, but in more than 25 years, we haven't replaced any chairs due to normal wear or loose joints. Should it happen, we will, but it just hasn't happened yet.
Look over the many styles we have pictured here. Our Amish builders are continually coming up with new styles that we will try to add as we can,
More Pictures from the Chair Shop